It was a most unusual consultation. Dr Ayo Ajeigbe received the patient at his private practice in Abuja, Nigeria's capital, in his customary welcoming manner.
But there was, it turned out, nothing wrong with the man. And when Ajeigbe asked why he was there, he simply replied: "I just wanted to see what a psychologist looked like."
Perhaps he shouldn't have been surprised. Mental health professionals are rare in Nigeria, as they are in many other developing nations. In Africa's most populous nation – a country of more than 200 million people – there are an estimated 150 practising psychologists.
If mental health treatments are patchy, inadequate and underfunded in most western nations, they are practically nonexistent in the majority of lower- and middle-income countries – more than 100 countries worldwide. Here mental health provisions are the poorly resourced afterthought of health budgets that are in any case likely to be meagre.
So what is to be done? Ajeigbe decided that a partial answer lay in the voluntary sector. A year ago, he agreed to head up the Abuja section of Mentally Aware Nigeria Initiative (Mani), a burgeoning user-led organisation fast emerging as a multi-pronged solution to Nigeria's mental health crisis.
Mani was launched in 2016 by Victor Ugo, a then medical student from Lagos who had suffered from depression, as a response to the lack of mental health support in Nigeria, where an estimated 7 million people have the same condition.
Ugo's vision was to drive change by raising awareness and dispelling stigmas that exist around mental health issues in Nigeria. And on Wednesday, he will appear at the annual Goalkeepers event on the sidelines of the UN General Assembly in New York, to make the case for more funding and fairer treatment for mental health.
"If you have depression," says Latifah Yusuf Ojomo, the deputy head of Mani's Lagos team, "people can cast you as mad, which means that the majority of people who have mental health issues in Nigeria do not understand, or want to accept what they are feeling."
From the outset, Ugo decided that if Mani was to have any significant impact it would need to focus attention on the country's most populous demographic. "Young people [in Nigeria] are much more open to learning new things," explains Ugo, "they are much more focused on ways to change."
Mani needed a "cool factor", something Ugo says was sorely lacking in the mental health sector: "Symposiums, that was all that was happening with mental health in Nigeria, just more and more symposiums, people would give a lecture saying we need to increase awareness, but nothing was happening."
Ugo and a small band of medical students took to social media, sharing stories and launching online campaigns. Then in October 2017 they hosted their first event, not a symposium as Ugo is keen to point out, but a food fair: "We just said come and you can taste different delicacies, play games and talk about mental health in a cool way."
The event was a huge success, and evolved into a series of monthly workshops focused on topics such as depression and anxiety. As Mani continued to grow in numbers, these meet-ups became known as "conversation cafes", held in restaurants, parks and cafes, and eventually spreading to cities all over Nigeria, including Abuja and Ibadan.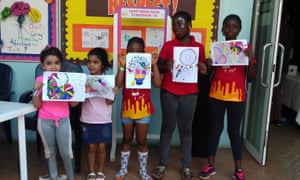 Each month, a different topic is selected – childhood trauma, the benefits of mindfulness, relationship strains, the reactionary attitudes of the "village" – a case study is presented and discussion groups form.
Two years later, Mani is now a leading voice on mental health issues in the country, with more than 1,500 volunteers and active in 13 of Nigeria's 36 states. Ugo is still taken aback by what the project has achieved. "We didn't know we were going to end up here; in fact, I feel like we have been a hundred times more successful than we expected at the start."
Despite the initial success, Ugo knew that still more needed to be done. "We thought if we don't balance this with some kind of help, we will cause more harm than good." So, in 2017, Mani launched a 24-hour mental health support service to run alongside its awareness campaigns. The service allowed people to reach out over WhatsApp or Twitter for emergency help in the form of advice, counselling and supportive listening. An emergency response team was also created via a network of volunteer counsellors. Mani also launched a confidential 24-hour suicide hotline. Attempted suicide is a criminal offence in Nigeria, punishable by up to one year in prison.